FREE Dri-Pod when you buy Unleashed!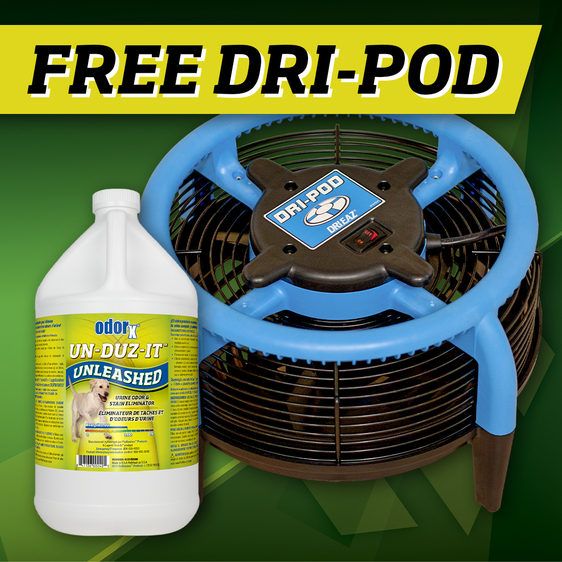 Time to get the inside odors out
Our furry friends have been by our side during challenging times, and as the weather heats up, odors rise up. To support all the cleaning business coming soon, we're giving a FREE Dri-Eaz DRI-POD FLOOR DRYER ($191 value) with the purchase of just TWO cases of our top-selling Un-Duz-It Unleashed Urine Odor and Stain Eliminator.
To get your FREE Dri-Pod:
Buy two cases of Unleashed in a single order between May 15-June 14, 2020, then email a scan or photo of your Unleashed invoice to market@legendbrands.com and they will ship your free Dri-Pod! It's that easy!
*One Dri-Pod per invoice. Cannot be combined with any other promotions or special offers. Allow 4-6 weeks for Dri-Pod delivery.
This is an amazing no-brainer good deal so make sure you're stocked with Unleashed now!
We At Pembertons Are Totally Committed To....
'Helping our customers get what they want.'
FACT: Everything that we do in our business is designed to help our customers get what they want.
FACT: We choose products that we know our customers want to buy, not products that we want to sell.
FACT: We offer an iron-clad, money back guarantee on our products, because that is what our customers want.
As an example, we are designing our Online Store in a way that makes it easy for our customers to find the solutions they are looking for because that is what our customers want.
We are also making our Pembertons Online Store easy to order from, instead of following all of the stiff and difficult processes found elsewhere.
We offer training courses, especially "Free Fridays", where we are simplifying the way we teach people about our technical subjects as well as marketing their businesses by working to remove all of the complex concepts and confusing marketing jargon, because that is what our customers want.
I could go on and on, but I sincerely hope you get the message. We will continue to design our business, our marketing and our sales processes, in a way that helps our customers get exactly what they want.
---